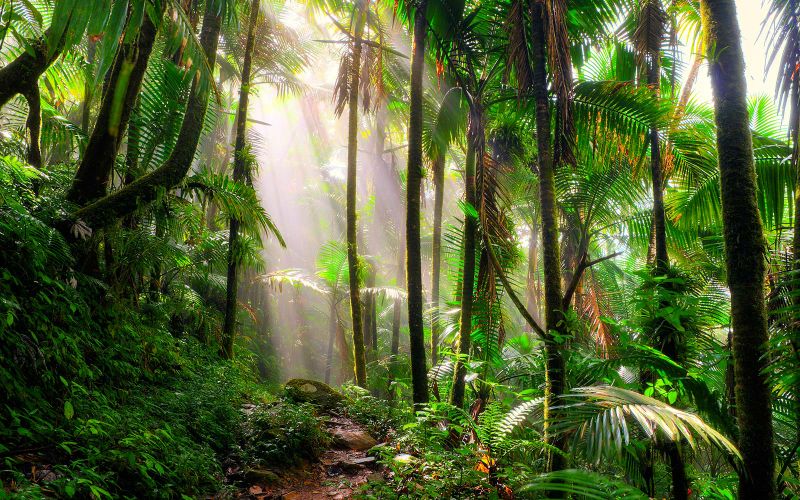 Dear Parents,
Our topic for this term is Rainforests. We have lots of exciting activities planned for Class 2. The children have already shown lots of interest in finding out about rainforests and are full of questions and ideas. Thank you, for your support in the pre-learning tasks.
We have a good selection of books to study this term, including Rainforest animals by Paul Hess, The Great Kapok Tree by Lynne Cherry, "Slowly, slowly, slowly," said the sloth by Eric Carle and many more. We will be writing in different genres, including riddles, stories, explanations and poetry. Handwriting continues to be a focus this term, and it would be great if you could encourage your child to complete their homework in pencil using the pre-cursive style (learning where the joins go before learning a cursive/joined handwriting) that they are learning in school.
Many thanks
Mrs Sullivan
Curriculum Overview
In Maths this term we will be learning to tell the time, with the Year 1s learning o'clock and half past and the Year 2s moving onto quarter past and quarter to.  Some of the Year 2s may be ready to learn the time to 5 minutes.  We will also look at the days of the week, months of the year and how to work out simple durations of time.  Following from time we will have a recap of some place value terms and will start increasing our understanding of numbers up to 50 (for the Year 1s) and consolidate our understanding of numbers to 100 (for the Year 2s).  This leads us nicely into a unit on multiplication and division, counting in 2s, 3s, 5s and 10s, sharing and grouping amounts.  The expectation by the end of Year 2 is that the children know their 2, 5 and 10 times tables.  Towards Easter we will learn about fractions and recap measures.
In Geography this term we will be focusing on the rainforest, understanding where they are in the world and why, how they are formed and what lives in the different layers of the rainforest.  In Science we will be learning about plants, finding out what plants need to grow and conducting some experiments to prove this.  In Music we will be creating our own rainforest orchestra, making a rainstorm with our bodies and then seeing whether we can transfer these sounds onto instruments.  After half term we will be embarking on a DT project to make a soft toy of a rainforest animal.  This will involve sewing felt together and stuffing it before embellishing the felt with sequins, buttons and scraps of material.
In PE this term, the children will be learning gymnastics and dance skills with Miss Zara and continuing with ball skills and small games with Mrs Hall.  So they will need to have shorts for a Tuesday with Miss Zara, but can continue with tracksuit bottoms for Mrs Hall's sessions on a Thursday.
We will be learning about the Torah and why it is important to Jews in RE this half term, and then in the lead up to Easter we will be thinking about whether Easter is a happy or sad time.
In computing, the children will be learning how to code, using the 2code app on Purple Mash.  The children are welcome to use the app at home and if you need a reminder of their login for Purple Mash, please ask.
Homework
As usual, there will be a homework menu for the term, with a range of activities to suit all learners.  Please choose one activity a week and hand it in on a Monday morning to be marked.  The children should be starting to take a bit more ownership of their homework, especially remembering to bring their books into the classroom.  Please encourage them to do this.
Reading
Every child should be reading for a minimum of 10-15 minutes each day. They could read to you, their siblings or independently. You can also read to your child and then discuss the book in greater detail. Comprehension is an incredibly important part of reading. You could also ask your child to predict what will happen next, describe what has happened, explain events, describe characters or rate their book. Lots of discussion!
All reading should be recorded on the Reading Record Booklet and then brought to school for a certificate.
Mathletics
Please remember to keep using Mathletics to practise rapid recall skills and to consolidate learning from lessons.  Please see me if you need a reminder of your child's log in.
Spellings
The children have received their new spelling lists for Term 3, so please continue to practise them each week.  At the planning meeting I demonstrated the Spellosaurus app on the iPad which is a great, simple way to learn spellings.  If you would like to be shown how to use this please just ask.
Reminders
Uniform
Please check that your child's uniform is clearly labelled with their name.  I currently have a cardigan on my chair, aged 5-6, that has no name in it.  If you think it might belong to your child please let me know.
Key Dates
| | |
| --- | --- |
| Friday 24 January | Year 2 Café |
| Friday 31 January | Year 1 Café |
| Thursday 6 February | Class 2 Act of Worship |
| Monday 10 February | Parents' Evening |
| Wednesday 12 February | Parents' Evening |
| Monday 30 March | Easter Service Framfield Church |
Sometime in the last 2 weeks of term there will, hopefully, be a trip to Drusillas with Kingfishers Class from Framfield.
As always, if you have any questions you are very welcome to come in and discuss them with me.