Welcome back to the 2016/17 academic year! I hope that everyone had an excellent summer and is raring to go again! We must say a big hello to the new parents of children who have moved up into Class Four this year, and a welcome back to our parents in Year 6! We have lots of interesting things going on in the first two terms, including our Harvest and Christmas festivals at Framfield Church, so do keep an eye on newsletters and Parentmail for updates as the term progresses!
Mr Boorman
Term 1/2
In terms 1 and 2 our overarching topic will be the Vikings. This is an exciting and interesting topic which I'm sure will really engage the children. It will feed into lessons across the curriculum in different ways, and I'm looking forward to seeing the work that the children will produce!
Trip
Class Four will be spending a day at Battle Abbey, learning all about the Battle of Hastings.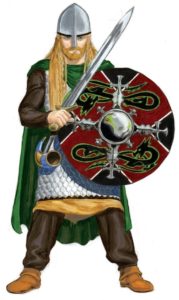 Literacy
In Literacy, we will be focussing on the text 'Viking Boy'. It is an adventurous story that touches on lots of different aspects of Viking culture and life.
Numeracy
We will be following the new numeracy curriculum, with increased emphasis on using and applying maths to solve problems, working towards mastery of the maths curriculum. Activities will be going home with children, and independent use of Mathletics is expected. It is important as well, with the announcement of new times tables tests at the end of Year 6, that children are practicing their times tables at home.
History
This is our main humanities topic for the term. We will be learning mainly about the Vikings – their impact on the Anglo Saxons in England, everyday life, Viking warriors and a whole host of other topics! We will also be spending some time focusing on the reign of King Alfred in Wessex and his dealings with the invaders. Finally, towards the end of term, we will also be looking at the Battle of Hastings, as this year marks its 950th anniversary and it is a wonderful piece of local history in East Sussex.
Science
Before half term, we will be studying electricity, where children will have the chance to use electrical equipment to create circuits. After half term, we will studying light.
Art
Children will be using fabrics and materials to create their own panels to combine together to make our own version of the Bayeux Tapestry.
RE
We will be learning about the world religion of Islam.
PE
In PE, will be developing their skills in dance, where we are first creating a dance inspired by monsters from Norse mythology. They will also be playing striking and fielding games and net games. Mr Potter will be taking the class on a Tuesday in term 1, followed by Zara in term 2.
PSHE
New Beginnings using the Go Givers curriculum resources.
ICT
In ICT, children will be improving their use of Publisher while also using algorithms to create programmes.
Homework
Spelling: Set on a Friday and tested on Friday the following week. To begin with, children's lists will be based on an assessment of medium frequency words. As they progress through the year, they will then have spellings to learn based on different letter patterns and grammatical uses (e.g. connectives, adverbs).
Literacy: A project sheet will be sent home, detailing what is expected for each week of the term until October half term.
Maths: This will normally be set on Mathletics, giving children the chance to either consolidate or extend their learning. Children can ask if they need a new username or password reminder.
Literacy and Maths homework will be set on a Wednesday, and should be handed in on the following Monday. If children fail to bring their homework in on time, they will be expected to complete it either at lunchtime or during golden time on a Friday. Please see me before school or send a note in with your child if there is a problem on a Monday.
Mental maths: 1 page of the book set on a Monday and to be returned to school on a Wednesday.
Reading: It is expected that children will read to themselves independently each evening. However, Children still need to read with an adult at home at least twice a week. This gives you a chance to ask them questions about their reading, helping them to develop quality reading skills outside of the classroom. Please feel free to write any comments in the reading record which will be sent home shortly.
Monday: Homework handed in. Mental Maths books taken home.
Tuesday: PE with Mr Potter/Zara
Wednesday: Mental Maths books handed in. Homework given out.
Thursday: PE with Mr Boorman
Friday: Spellings tested and handed out for the next week.
Key Dates
| | |
| --- | --- |
| 23rd Sept | Whole School European Day of Languages |
| 26th Sept-30th Sept | Year 6 Bikeability Week |
| 5th Oct @9am | Whole School Harvest Festival at St Thomas à Becket Church, Framfield |
| 13th October @9.05am | Class 4 Assembly in the hall |
| 21st Oct | Last Day of Term 1 |
| 24th Oct - 28th Oct | Mid-Term Break |
| 31st Oct | Y6 Parental/Pupil Secondary School Choices/Applications to be Uploaded via ESCC Website |