Dear Class 1 Parents,
Firstly, a very warm welcome to all our new Class 1 parents! We are delighted that you have chosen Blackboys CE School and very much look forward to getting to know you and your families over the coming weeks. May I also say welcome back to our Year 1 parents. The Class 1 team very much hope that you all had a wonderful summer and feel rested and ready for the new and exciting year ahead.
In Class 1, Mrs Booth teaches the class from Monday to Wednesday, with Mrs Nobes teaching Thursday and Friday.  We have 2 super Teaching Assistants, Miss Butler and Miss Pavitt.  On a Friday afternoon, Higher Level Teaching Assistant, Mrs Hall, takes the class for PE and home time routine.
As it is the beginning of the academic year, and for many members of our class the start of their Primary schooling, we feel that it is essential that we spend the first few weeks of this term getting to know your children as individuals, as well as helping them to get to know one another. Therefore during the first couple of weeks, through our 'Super Me' topic, we will be learning as much as we can about each of your children. We will be encouraging them to share with us their likes, dislikes, their interests, as well as identifying their strengths and areas for development with regard to the curriculum. This information will then be used to inform and personalise our future planning. In addition to this, we will also be spending this period of time helping your children to learn about new routines, expectations, the school Christian Values and the Characteristics of Effective Learning. These key skills are all crucial for all children to learn as they will help support them throughout their school life.
Our topic for the latter part of Term 1 will be "People Who help Us" which will lead fluidly into our Term 2 topic 'How can I be a Superhero?'. We will be learning about the different emergency services and how they help us. To support this learning, we will be having a visit from firefighter and a fire engine, as well as having an educational visit to a Raystead, at the end of Term 1, to get some hands on experience.
Literacy
Children will be developing their vocabulary through role-play, drama, speaking and listening activities. We will focus on a number of different fiction and non-fiction texts to base our literacy work on, including:
Super Me:
People who help us/ Superheroes :
Super Daisy
Supertato stories
Super Duck
Superworm
Elliot and the Midnight Superhero
Superhero ABC
...as well as many others!
Our writing focus for Reception children (YR) will be for them to gain confidence using phase 2 phonics to write simple captions independently and for Year 1 children (Y1) to hold and write sentences independently. YR children will be introduced to all of the phase 2 phonics sounds from the 'Letters and Sounds' programme. Year 1s will we revisit phase 3 and begin phase 5.
Maths
Through the use of practical maths sessions, in which we will promote the use of a wide range of concrete apparatus, the children will be covering the following objectives:
Reception Objectives
Number - Count reliably with numbers from 1 to 5:
Recognise some numerals of personal significance.
Recognises numerals 1 to 5.
Counts up to three or four objects by saying one number name for each item.
Count actions or objects which cannot be moved.
Selects the correct numeral to represent 1 to 5 objects.
Counts an irregular arrangement of up to 5 objects.
Shape, Space and Measures - Explore characteristics of everyday objects and shapes and use mathematical language to describe them. Recognise, create and describe patterns:
Beginning to use mathematical names for 'flat' 2D shapes, and mathematical terms to describe shapes.
Selects a particular named shape.
Use familiar objects and common shapes to create and recreate patterns and build models.
Year 1 Objectives
Number - Place Value:
I can count, read and write forwards from any number 0-10.
I can count, read and write backwards from any number 0-10.
I can find missing numbers in a number sequence 0-10.
I can find the number between two given numbers.
I can count one more than a number to 10/20 (record as a number sentence).
I can count one less than a number to 10/20 (record as a number sentence).
I can use one to one correspondence to compare groups.
I can compare groups using language such as equal, more/greater, less/fewer.
I can compare sets of objects and use <, > and =.
I can compare numbers.
I understand the meaning of zero.
I can recognise and use ordinal numbers.
I can solve problems related to ordinal numbers.
I can sequence a random set of numbers to 10/20.
Number - Addition and Subtraction:
I can use the part-whole model to partition a number into two or more parts.
I can use the addition symbol.
I understand addition fact families.
I can record addition facts.
I can use the part-whole model to fill in missing numbers.
I can find number bonds for numbers within 10 (5 and 7).
I can use systematic methods for number bonds within 10.
I can recall number bonds to 10.
I can record number bonds to 10.
I can use numbers bonds to 10 to solve practical problems.
I can compare number bonds.
I can add two amounts by counting how many there is all together.
I can add two amounts by counting on.
I can find the missing part in a part-whole model and a number sentence.
I can subtract by taking a given number of objects away.
I can understand and use the subtraction symbol.
Your child will also be given a login for an online maths learning platform called 'Mathletics'.  Your child is encouraged to use this as regularly as possible at home to help develop their maths skills. This was very popular last year and the children loved receiving certificates for points earned!
I understand subtraction as finding a part or breaking apart.
Year 1 Spellings
As a Federation, we will be continuing to use a spelling initiative that encourages children to learn their spellings in a more creative manner and with the emphasis being on these spellings being used correctly when completing any written work at school. Research shows that learning spellings for a test is ineffective for improving spelling in children's writing and therefore we do not test the children on their spelling words. Instead we will be expecting to see these spelling words applied correctly when children complete written work in school.
At the beginning of each term your child will be given a list of spellings they need to learn each week. They will also be given a 'Spice up Spellings' activity menu that will give you ideas on how to help your child learn these spellings.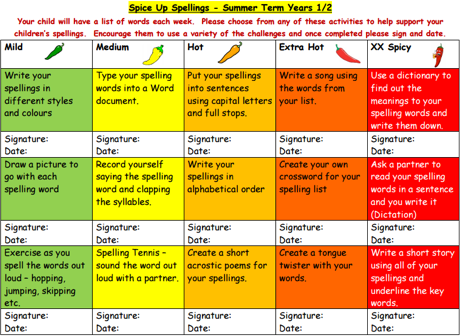 Reminders
P.E
We have two PE sessions a week. These take place on a Tuesday and Friday. Please ensure your child has their full PE kit (fully named) in school for each session. Whenever possible this session will take place outside so please feel free to also include jogging bottoms, a sweatshirt and trainers for this session to help keep them warm. Please ensure your child's PE kit is clearly labelled and named.
Forest School
In Class 1, pupils are extremely privileged to be having Forest School sessions every other Monday afternoon. These will be run by a qualified forest school leader and Blackboys' parent; Mrs Lydia Godfrey. She is very skilled in this area and has been delivering Forest School lessons for us for a number of years now. In addition to Mrs Godfrey, Miss Pavitt (Class 1 & 2 TA) will also be attending these sessions. Please be aware that additional parents will also be required in order for these sessions to run. If you are interested in helping please speak to a member of the Class 1 team or write your name on the sign-up sheet (outside area).
For Forest School your child will need the following items. Please ensure that your child brings the following items into school every other Monday;
Wellington boots
Long sleeved top
Trousers (not jeans)
Waterproof coat
Waterproof trousers (if possible)
Please be aware that the children will go out whatever the weather and can sometimes get wet and muddy so do not send them with their best clothes.
Parent Voice
Parent voice is extremely important to us and we love to hear what your child is getting up to at home. Please feel free to pick up a 'Wow' slip from outside the classroom door. Please fill these out if you see your child do anything special. The children love sharing their 'wow' certificates with one another.
Uniform
At Blackboys we pride ourselves on making sure that our children take pride in their appearance as well as in their behaviour and learning. Thank you for ensuring that your child is looking smart for school each day. We do ask that you double check that your child's uniform, including coat/lunch box, is clearly labelled with their name.
Water Bottles
Staying hydrated is very important for learning. The brain needs a considerable amount of water each day to function effectively. Therefore we encourage the children to drink water at regular intervals. To aid us with this please send a named bottle of water for your child to drink in class. Children are able to drink from the water fountain but having a water bottle in the classroom is a lot easier.
9:05-9:20 Monday morning - share a book!!
In order to promote a love of reading our YR children stay in the classroom during act of worship  time on a Monday for our class 'share a book' session. This is a special time for parents to come into the class and read a story to a pair or small group of children. Hearing different people reading is extremely valuable to the children because as adults we all read with different expression, tone and intonation. The children really enjoy these sessions and younger siblings are also invited to join in the fun. These sessions will begin on Monday 16th September.
09:05 to 09:20 Thursday Assembly
As a school we like to support local and international charities. Each term a charity is chosen by our school counsel and a collection for that charity takes place each Thursday during our assembly. It would be greatly appreciated if your child brought a small donation (spare change) on this day so they can put money into this collection. Parents are also always welcome to attend this assembly.
Parent Helpers
If you (or a Grandparent) can spare any time each week to come and help in Class 1 we would be extremely appreciative as it is most beneficial to the children's learning. Please let me know if this is something you would be able to do - we can be flexible with days and times.
Class 1 Outside Area
In the Class 1 outside area we have a 'Mud Kitchen' which the children have the opportunity to use. This can become messy so we would like to ask you bring in a pair of Wellington boots for your child to wear. We will provide them we overalls.
Please may we ask that when you are waiting to pick up your children from school, it would be appreciated if younger children would not play with or on the equipment in Class 1's outside area. This distracts the children already in the class and it takes a long time to re-organise ready for learning the following day.
Finally, if you ever have any queries or questions please do not hesitate to email us at:
sbooth@blackboys.e-sussex.sch.uk
jnobes@blackboys.e-sussex.sch.uk
Very Best Wishes,
Mrs Booth, Mrs Nobes, Miss Butler and Miss Pavitt
Reading
This week your child will been given two reading books, a sharing book and a reading band book. There will also be a reading record which is for you to use at home but please ensure that it is kept in your child's book bag. In the reading record please write daily about the books that you have read with your child regardless of whether you or they have read it as well as any appropriate comments. You do not need to write a separate entry for each separate book read on the same day. One comment per day is sufficient. When 6 pages of the reading record have been completed then a reading certificate will be given to your child during our weekly Thursday act of worship. We will be checking reading records for these certificates on Wednesday so in order to avoid disappointment with delayed certificates please double check that your child's reading record is in their book bag every Wednesday.
In Class 1 we believe that 'reading' is the best gift a child can be given and as such every child will be read with at least once a week by a member of the Class 1 team. This will be in additional to daily shared story times. Whilst we appreciate that life as a parent is often hectic, we would like to stress the importance of you also completing daily reading with your child. Therefore we expect every child to be reading for a minimum of 10-15 minutes every day at home. For YR this reading time may initially involve looking at the pictures of a book with your child; encouraging them to make up their own version of the story; or it may be you reading to your child.  In time, we expect your child's skills to be ready for them to read to you.  For Y1 please support your child to read their book but also remember to discuss it. You could share the meaning of unfamiliar words; ask questions about what the characters; get your child to pick out their favourite words; or re-tell the story together. The most important thing to do is to make this reading time fun and enjoyable! Thank you for your support with this area of your child's learning.
In order to keep the changing of books as simple as possible, your child will choose reading books to be changed on Monday, Wednesday and Friday. These books should be kept in your child's book bag during the week and should be read and re-read before the books are changed. Whilst reading the same book over again can be 'challenging' for us as parents, this repetition is very important for new readers as it helps them to gain confidence; familiarity; build their vocabularies; develop an understanding of rhythm and pattern; as well as for developing comprehension skills.