Quick links: Class 1 Home Learning | Class 1 Summer Term | Useful Downloads
Dear Class 1 Parents,
We hope you all had a lovely Easter holiday and were able to complete some of the pre-learning tasks. It is a challenging time for everyone, but we hope you continue to enjoy the home learning tasks.
Our topic for Terms 5 and 6 is 'Under the Sea; Over the Waves'. These will be based around the seaside and Pirate themed activities.
As our topic title suggests, this term we will be focusing our learning on things we find under the sea as well as the seaside itself. We will be learning about the oceans of the world – their names and where they are located. We will explore the history of the seaside by looking at how clothing for the beach has changed and the types of seaside entertainment people used to enjoy. We will also be finding out about different sea creatures. For Year 1 children it includes; being able to interpret sources such as; maps photographs to name the seven continents and the oceans of the world. They will gain knowledge by studying a contrasting area to Blackboys this will be St Lucia. We will encourage the children to use geographical vocabulary such as; coast, sea, ocean, weather, village, house, shop, harbour, beach when talking or writing about the locations.
Literacy
Children will continue to have opportunities to develop their vocabulary through new and exciting texts, as well as a variety of speaking and listening activities. We will focus on a number of different fiction, non-fiction and poetry texts to base our literacy work on, including:
The Rainbow Fish
Seaside Poems
Non-fiction Sharks
Hooray for Fish
Commotion in the Ocean
Douglas the Deep Sea Diver
Pirate Pete                            ...as well as many others!
We will support you to explore these texts at home through the use of PowerPoint's, video clips and stories read aloud via videos.
The writing focus for Reception is to continue to use and apply their phonics to write simple sentences independently. They will also be encouraged to accurately spell some the tricky words which accompany each phonic phase. In phonics, Reception will be introduced to Phase 4. We will be learning to read and write our tricky words and there will be a strong emphasis on blending. Year 1's writing focus will be to develop their independence when writing. They will also be encouraged to think about the structure of their writing and ways to make it more interesting. During home learning could you support your child to write independently by making phonically plausible attempts at spelling words, reading their work to check for sense and use capital letters and full stops.
Year 1 Spellings
During term 5 could you support your child with learning to spell all the Year 1 common exception words listed below? They are also available on our website page to download. If they can already spell them, they will need to ensure that they are spelt correctly in their independent writing.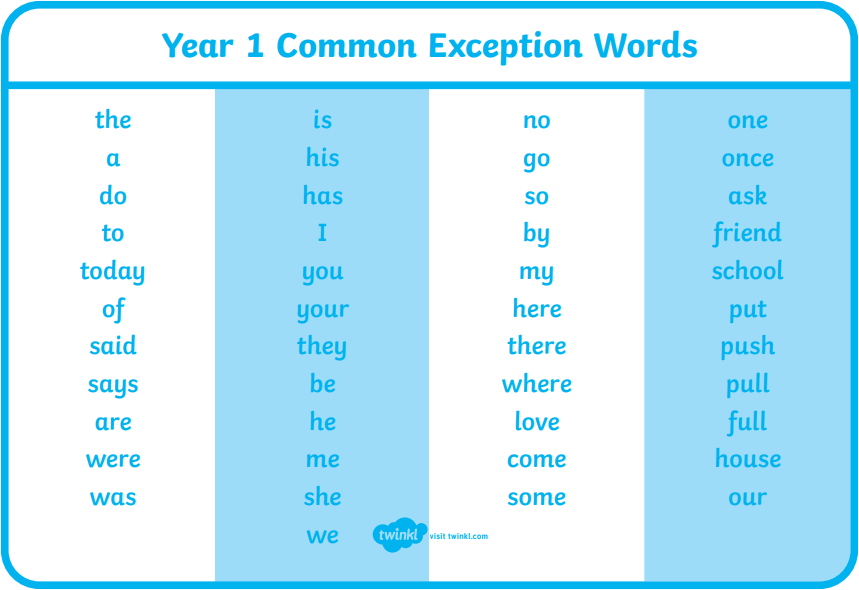 Reading
As the children's phonic and tricky word knowledge develops this term so will the children's reading skills. It continues to be essential that the children practise their reading as often as possible so please continue to read daily at home with your children for 10-15 minutes. This can include reading games which involve reading tricky words and phonic sound mats. We will aim to continue to award certificates for every six pages completed in your child's reading records. Please let us know when your child has completed six pages, so they can be rewarded through our virtual Gold book Assembly or our You Tube channel.
Maths
Through the use of planned practical maths sessions, we will make suggestions during home learning tasks of objects and activities that the children can use to cover the following objectives:
Reception Objectives
Numbers
To count reliably with numbers from 1 to 20, place them in order
To say which number is one more or one less than a given number (to 20).
To add and subtract two single-digit numbers and count on or back to find the answer.
To solve problems, including doubling, halving and sharing.
Shape, Space and Measures
To use everyday language to talk about position, time and money.
To compare quantities and objects and to solve problems.
To recognise, create and describe patterns.
To use language related to height and length to compare everyday objects.
Year 1 Objectives
Number - Place Value:
To describe the place value of numbers to 100.
To compare and order numbers.
Number - Multiplication and Division:
To count in 2s, 5s and 10s
To recognise and make equal groups
To share equally and make arrays
To add equal groups and make doubles
To find halves and quarters of shapes and numbers.
Shape, Space and Measure - Time
To recognise and use language relating to dates
To sequence events in chronological order
To recognise and name common 3D shapes
To tell the time to the hour
To measure and begin to record time
To recognise and know the value of different denominations of coins and notes
Mathletics
Your child has a log-in for this online Maths website. Please keep encouraging them to use this as regularly as possible at home to help develop their maths skills. The children love receiving certificates for points earned! If anyone has lost or forgotten their log-in please say and we can give it to you again.
Reminders
Parent Voice
Parent voice is extremely important to us and we love to hear what your child is getting up to at home. Please continue to let us know how well your child is learning at home by email or when we are back at school through the 'Wow slips'. The children love sharing their 'wow' certificates with one another.
Uniform and Water Bottles
A little reminder for when we all return to school; now that the weather is warming up please ensure that on days when it is likely to be hot and sunny you put sun cream on your child before they come to school. Also remember to send them to school with a named hat and water bottle.
9:05-9:20 Monday morning - share a book!!
We will still be running our reading mornings when we are back at school. You are more than welcome to come and share a book with the reception children.
Parent Helpers
If you (or a Grandparent) can spare any time to come and help in Class 1 we would be extremely appreciative as it is most beneficial to the children's learning.
Finally, thank you for all your support with the home learning tasks.  If you ever have any queries or questions please do not hesitate to email us:
sbooth@blackboys.e-sussex.sch.uk or jnobes@blackboys.e-sussex.sch.uk
Very Best Wishes, Mrs Booth, Mrs Nobes and the Class 1 Team