Dear parents/carers;
Firstly, I would like to welcome you all and hope that you've had a pleasant and re-energising holiday!  For those that are new to Blackboys School, the PTA is run closely alongside the school staff with its key aim being to hold fun and exciting fundraising events.
As most of you already know the financial climate for nearly all public sectors is a tough one and no more so than in education and for our very own Blackboys COE Primary School.  So much had work goes on behind the scenes, not least of all by the school staff themselves but also those that work closely within the PTA.  As you can appreciate the PTA is an integral part of school life and our fundraising is a key ingredient in providing your children with the much-needed resources and experiences that they need to learn, develop and ultimately have fun!
The events that are put on for your children, their families and the community at large take a lot of organising and I am always grateful for the help and assistance that parents/teachers provide.  Attending these events is also paramount because without your support and generosity the PTA would simply not survive.
Important dates to note are the AGM which will be taking place on Friday 5th October with a start time of 2:50pm at the school. It would be great to see as many of you as possible. On average we hold between 3-4 meetings a year to discuss what we'd like to do and how but what's more important is to have a collective of people that can assist with the arrangements and management of events/stalls on the day.  Of course, more hands make lighter work so if you'd like to get involved then please grab me at the school gates or email me on rswevill@gmail.com.  It's great fun and I welcome your ideas no matter how crazy you feel they might be!
Furthermore, our Christmas Fayre will be taking place on Saturday 8th December (time TBC). Again, new ideas are always welcome. Additionally, we also aim to put on a Xmas Wreath making evening with Laura Beale from Fern Cottage Floristry. It was great fun last year and we hope to build on it's success!
Kindest regards
Rob Wevill (PTA Chair)
Blackboys CE School PTA Fundraising with Easyfundraising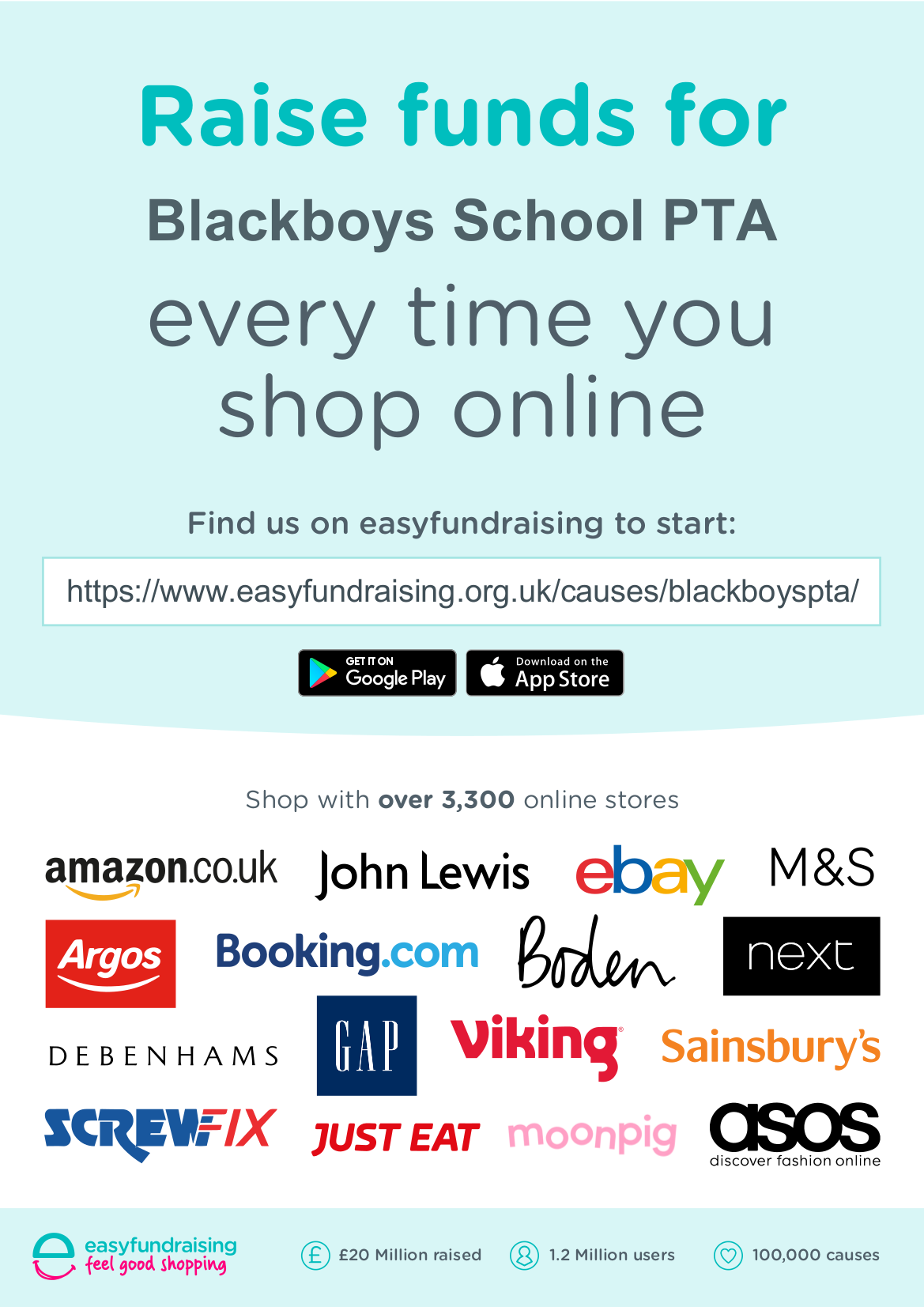 Do you shop online from companies like Amazon, eBay, John Lewis and Tesco? easyfundraising turns your everyday online shopping into free donations for your favourite cause. Just start your online shopping first at easyfundraising, then shop as normal. Retailers will then make a small donation to say "thank you". To make it even easier to use, you can set up a donation reminder so that if a website you use is affiliated to easyfundraising, you'll automatically be asked if you want to go through the site.
There are 3,449 retailers to choose from.