Dear Parent/Carer,
The past twelve months or so have been an extremely challenging time for many and no more so than for our children and the wider school community. Events such as the Christmas and Summer fairs were sorely missed but as we enter the final stages of lockdown, the time for fun, frolics and meeting in larger groups is now within our reach. It is a time for optimism and as such we hope to be able to stage our annual Summer Fair on Saturday 3rd July. We will endeavour to keep you updated on the likelihood of this taking place and if you are able to offer some support, I would wholeheartedly encourage you to come forward.
This last point brings me onto the announcement that after almost five years at the helm I will finally be stepping down from the PTA this Summer. The role of Chair and other positions will therefore need to be filled, so I urge and encourage as many of you as possible to come forward and take an already very healthy PTA into the future. Remember, that without a PTA we run the risk of costs going up and activities such as the much-loved Forest School and future school trips being curtailed.
I would like to thank all those that have helped and assisted me along the way, including the staff at Blackboys School who, without their amazing support, we would simply not have achieved the successes we have had along the way.
And finally, before I sign off, please don't forget to bring in your unwanted child and adult clothing on Monday 17th May! You can bring in as many bin bags as you can muster and remember, the heavier the load the more money we will make for the school so don't hold back!!!
Yours faithfully,
Rob Wevill
PTA Chair
Blackboys CE School PTA Fundraising with Easyfundraising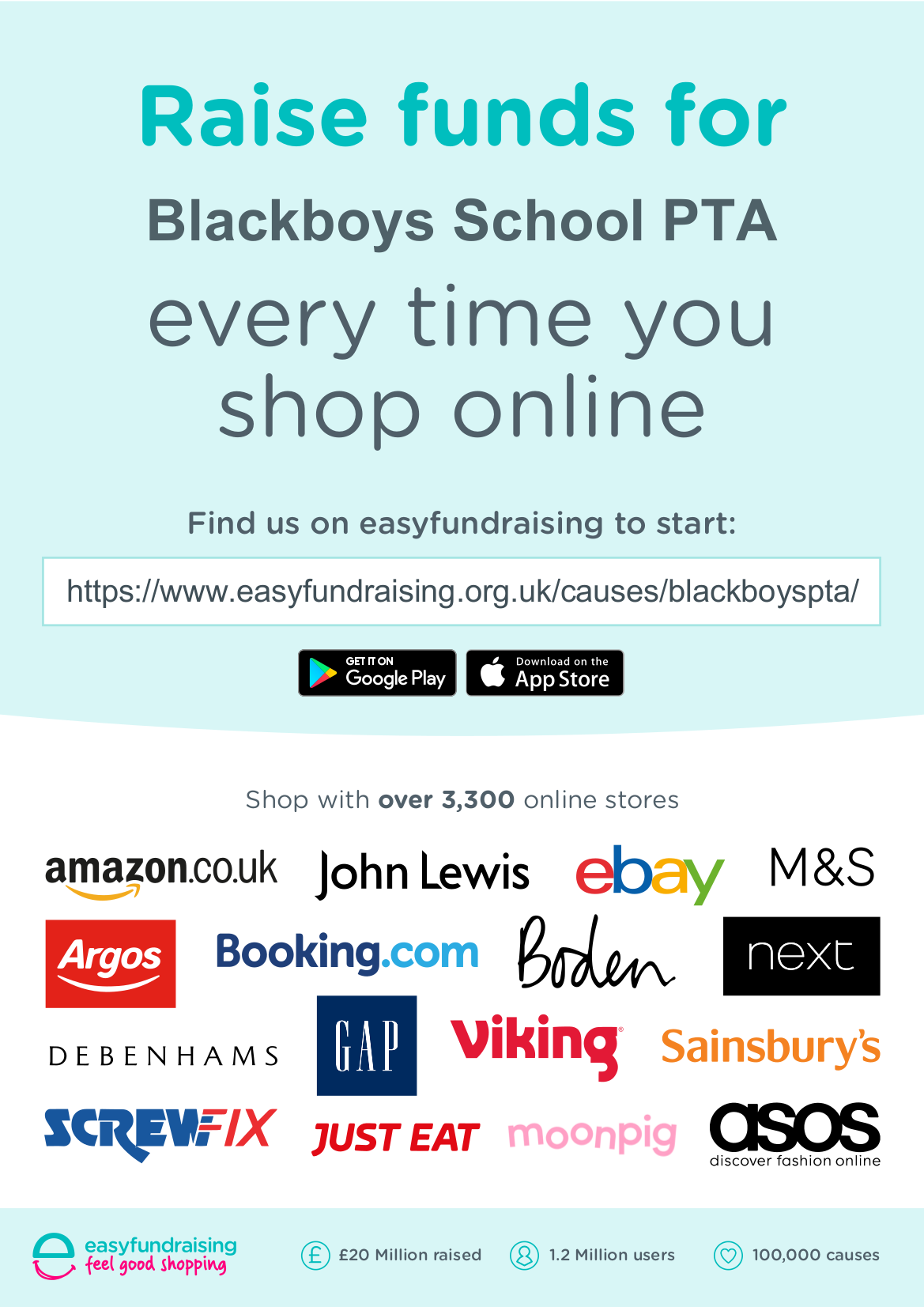 Do you shop online from companies like Amazon, eBay, John Lewis and Tesco? easyfundraising turns your everyday online shopping into free donations for your favourite cause. Just start your online shopping first at easyfundraising, then shop as normal. Retailers will then make a small donation to say "thank you". To make it even easier to use, you can set up a donation reminder so that if a website you use is affiliated to easyfundraising, you'll automatically be asked if you want to go through the site.
There are 3,449 retailers to choose from.