It has been a very busy year for the Blackboys School PTA. I wanted to take this opportunity in thanking all of you for playing the vital part in all of our annual events which took place, it wouldn't have been possible without you supporting us. Hopefully this year Covid will allow us to host the annual Christmas Fair.
I just wanted to send out this round up email so that you are aware of what the PTA have done for your children's school this year.
Thanks to Mr Wevill and Mr Sullivan, who were able to partake in the London to Brighton cycle to complete there fundraising efforts for the school.
We provided all pupils with jubilee coins to celebrate the memorable event at the end of May.
We have purchased the Year 6 school leavers books which will be presented to them at Cup Assembly, Wednesday.
We have continued to contribute towards the coaches for all school trips for all year groups, as well as subsidising some visits.
We have fully funded Class 1 Forest School throughout the year.
The Class 1 outside area is being given a facelift over the Summer holidays to make the area more inviting for the children.
We are providing teaching screens in Class 1 Year 1 area as well as the ICT suite.
The library (LRC) will be receiving a revamp in the next academic year!
And lastly, we have successfully set up gift aid, which means that for every £1 that Blackboys PTA is donated, we can claim back 25p. If anyone would like to donate monthly/single contribution(s) please contact the PTA or school office, every little helps. This is something we have been trying to accomplish for some time and are pleased to say mission finally completed!
Please continue to support our School by coming along to the PTA meetings as much as possible. We need you! All fundraising ideas are welcome. We cannot do it without you.
I wish you all a happy and healthy Summer break.
Kind regards
Mrs Glenn
Blackboys School PTA Chair
Blackboys CE School PTA Fundraising with Easyfundraising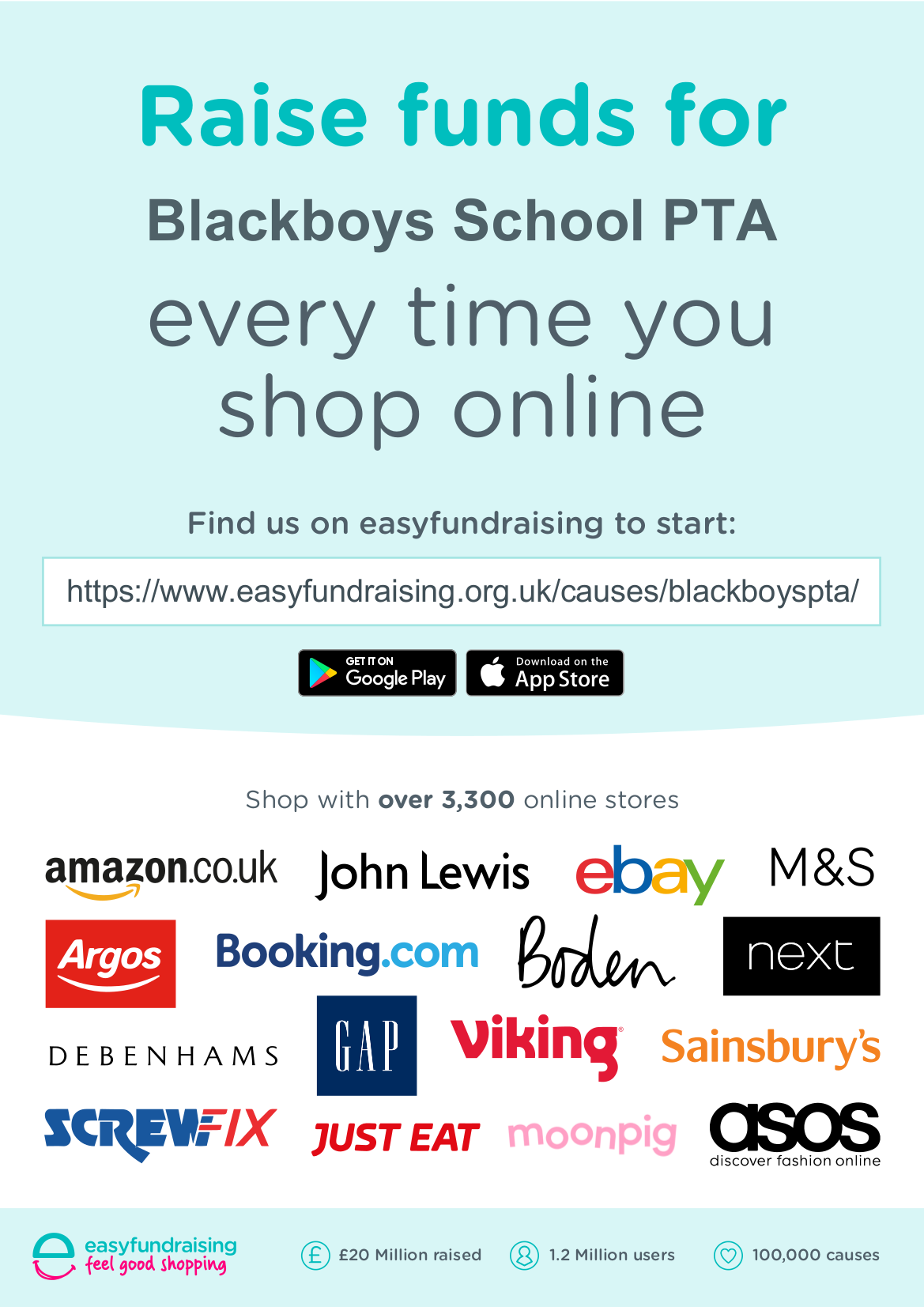 Do you shop online from companies like Amazon, eBay, John Lewis and Tesco? easyfundraising turns your everyday online shopping into free donations for your favourite cause. Just start your online shopping first at easyfundraising, then shop as normal. Retailers will then make a small donation to say "thank you". To make it even easier to use, you can set up a donation reminder so that if a website you use is affiliated to easyfundraising, you'll automatically be asked if you want to go through the site.
There are 3,449 retailers to choose from.