Dear parents/carers;
I hope you're all well and have recovered from a hectic Xmas period? Term 3 is of course already in full swing and we're now knocking on the door of half term and looking forward to Spring and Summer! This period brings a number of important events including our 'Quiz & Curry' night to be held in mid-March and the Summer Fair which is planned for Saturday 22nd June.
The winter period was, as always, a busy but productive time for the PTA. We held our annual Christmas Fair in early December which was a great event had by all and we raised an impressive £1,609.98 after deductions. I'd again like to take this opportunity to thank all the class reps and many others who helped to put on this great event because without you it just simply wouldn't be possible.
In addition to the fair we also held our second Xmas wreath making evening held by Mrs Beale from Fern Cottage Floristry. This was bigger and better than last year and raised an additional £210. Furthermore, throughout the month of January we were included in the Waitrose in-store token scheme with the aim being to improve the on-site forest school garden. Thanks to all those that popped their green tokens into our pot and I'm pleased to say that we have since been presented with a cheque for £390.
As previously indicated the quiz is fast approaching and this will take place at the school on Friday 22nd March between 7pm and 7.30pm. Tickets are £10 each which includes entry and a tasty curry. I am pleased to announce that our friends at the nearby Blackboys Inn will be providing the meal to accompany the quiz. Mr & Mrs Dunbar are great supporters of the school and I am eternally grateful that they could assist us on this occasion and others!
It's worth pointing out that Jemma Hill and I will be stepping down from the PTA this Summer. We've had three very successful and enjoyable years but feel it's time for some fresh blood and to give others the opportunity to make Blackboys PTA the envy of the rest. Therefore, if you would like to become involved and be part of the committee please let she or I know or contact the school directly.
Kindest regards
Rob Wevill (PTA Chair)
Blackboys CE School PTA Fundraising with Easyfundraising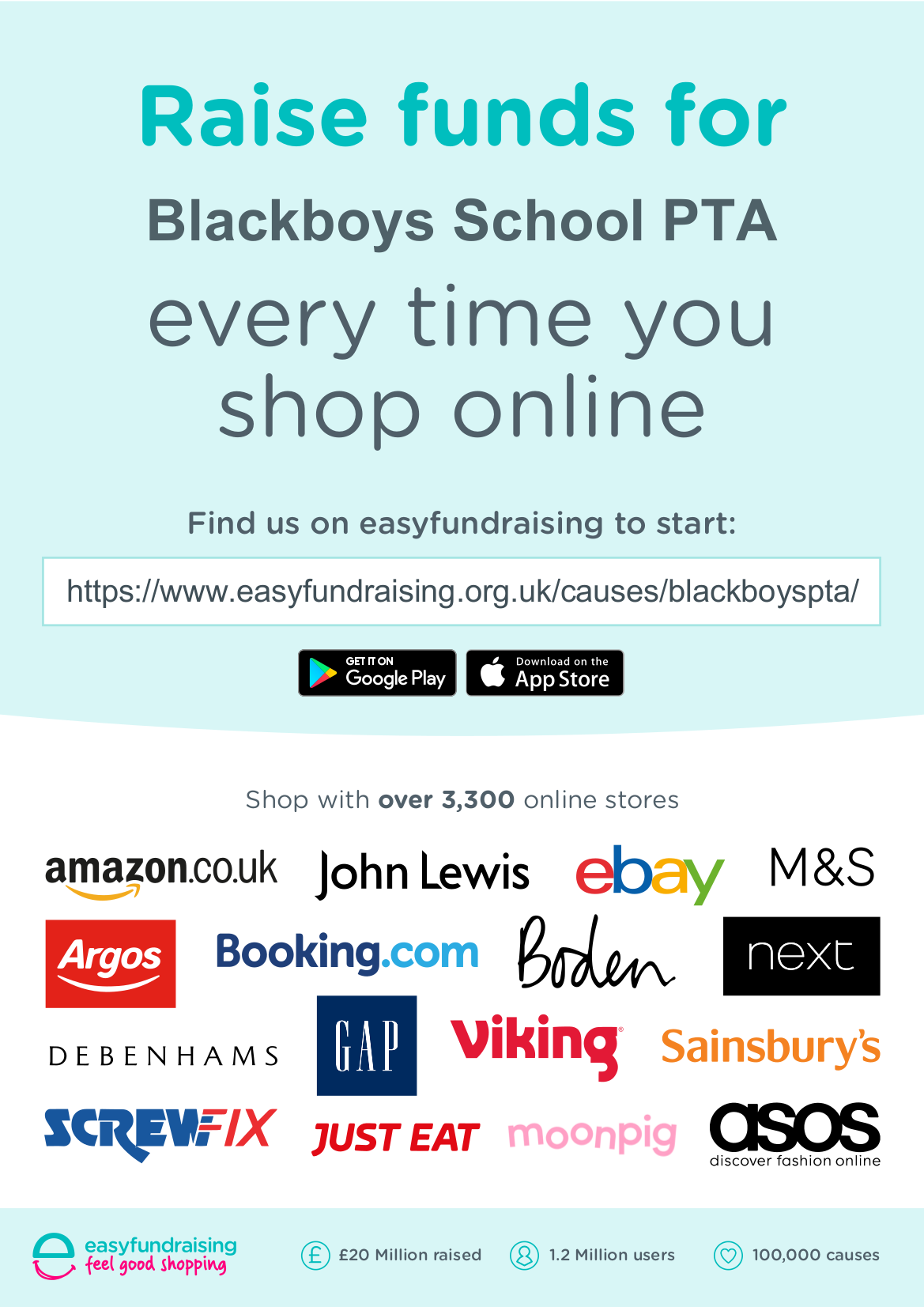 Do you shop online from companies like Amazon, eBay, John Lewis and Tesco? easyfundraising turns your everyday online shopping into free donations for your favourite cause. Just start your online shopping first at easyfundraising, then shop as normal. Retailers will then make a small donation to say "thank you". To make it even easier to use, you can set up a donation reminder so that if a website you use is affiliated to easyfundraising, you'll automatically be asked if you want to go through the site.
There are 3,449 retailers to choose from.